Jio Glass Price- Jio Glass is a mixed reality tool that aims to make virtual meetings more approachable. The Jio Glass seems to be the follow up the project. Here are the details.
What is Jio Glass?
Reliance Industries Limited (RIL) has launched it's 43rd Annual General Meeting (AGM) showcased a new Mixed Reality solution, called Jio Glass. At the event, the company did not reveal the pricing and the availability details about the product. However, they did showcase a demo as to how the Jio Glass will work when it is made available to the public.
"Jio Glass is a cutting edge of technology that provides best-in-class Mixed Reality services to give users a truly meaningful immersive experience," says Kiran Thomas, President, Reliance Industries Limited.
"With Jio Glass, the traditional way to learning Geography will now be History, "he added.
Through the Jio App Store on the Set Top Box, one can access internet applications across multiple genres such as entertainment, education, health, cooking, yoga, gaming, religion, and many more: Akash Ambani at #RILAGM #NayeIndiaKaNayaJosh #Jio #JioFiber

— Reliance Jio (@reliancejio) July 15, 2020
Jio Glass Live Demo-
Kiran Thomas, President of RIL showed through a demo how it works. He said 'Hello Jio, please call Akash and Isha'. After calling, Akash was shown as a 3D avatar. On the other hand, Isha joined through a 2D video interface.
Through the call, the company wants to show how Jio Glass will help make meetings and calls easier and more interface. The company also said that Jio Glass' cutting edge technology that offers a truly meaningful immersion experience by providing best-in-class Mixed Reality services.
Jio Glass Price In India
Many speculations are going around regarding the cost of Jio Glass in India., but nothing is yet confirmed from Reliance Jio. If rumours are to be believed It will be costing somewhere near to the price of Apple iPhone's AirPods.
| | |
| --- | --- |
| Device  | Expected Price  |
| Jio Glass | Rs 14000/- |
Jio Glass Specifications-
Jio Glass has a camera lens in the centre front for visuals. It is backed by audio hardware and batteries on the sides. A USB cable is to be used to connect the glass to the smartphone for internet connectivity.
Most probably, JioGlass will get wireless connectivity some months after its launch.
| | |
| --- | --- |
| Jio Glass  | Specifications |
| Weight | 75g |
| Connectivity Speed | 5G |
| Interaction Type | 2D & 3D Holographic |
| Glass Make Type | Ergonomic |
Jio Glass Expected Price and Availability in India
Reliance Industries has not confirmed anything about the availability and of the Jio Glass. But hopefully, it will be available from next month. It is said to be priced ar Rs 14000 in India.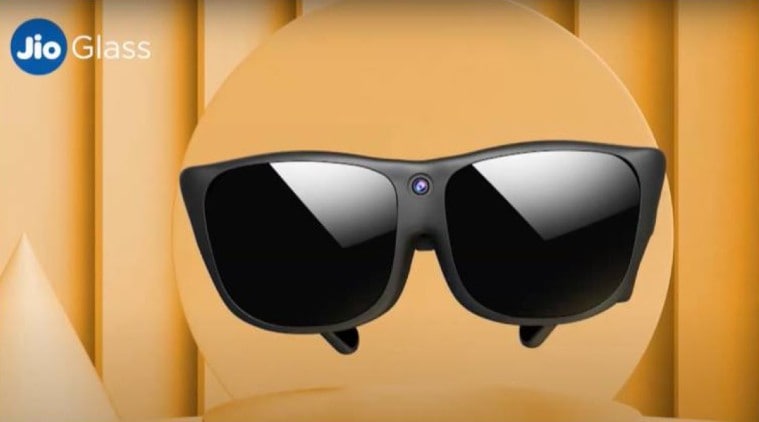 Features-
So here are top 5 Cool things you need to know about Jio Glass-
It looks a lot like a combination of Bose Frames and Snapchat Spectacles. However, unlike Spectacles that has two cameras near the two lenses, Jio Glass has a camera in the middle. Additionally, the two smart glasses, Jio Glass has built-speakers and battery that are safety tucked inside the two legs. Bonus: It weighs just 75 grams.
Jio Glass is powered by Mixed Reality. Users can interact with others over a conference call, who can join them either in their 3D avatar or the regular 2D video call format
A sleek combination of Bose Frames and Snapchat Spectacles, the Jio Glass has a single camera in the middle
Jio Glass is also compatible with voice commands and holds a high-resolution display and a spatial and personalized audio system
The Jio Glass has built-in-speakers and battery that are safety tucked inside the two legs
Weighing only 75 gms, the Jio Glass has 25 in-built apps to allow augmented reality video meetings and more
It supports HD quality of video and it supports all standard audio formats
Reliance smart glass also allows quick sharing and viewing content on a giant virtual screen that is somewhat similar to the Oculus VR headset.
Jio Glass Latest Updated Features-
Audio in Glass
The Jio Glass comes with audio hardware on its frame sides which is useful in transmitting and receiving sound. Thus, you don't need to carry an earphone for audio purposes.
Virtual Meetings
This feature allows employees to have virtual meetings in the same office environment. They even draw charts, give presentations, share files, and much more in a meeting.
3D Virtual Rooms
This features a virtual creates a virtual classroom that helps students and teachers to interest just like they fo in the real physical class. Therefore, students will be more comfortable in understanding lessons than in the current 2D video environment.
5G Speed
According to Jio, Jio Glass Price will be 5G technology so that videos are streamed in excellent quality without any buffering or lag.
In-Built Apps
Jio Glass comes with 25 pre-installed apps. These apps are related to video conferencing and personalization. Jio also invited app developers to build Jio Glass apps.
Read More: What is Jio TV Plus? JioTV Plus App Download, Price, offers and FAQ
Jio Fiber Mumbai-Online Booking, Plans, Offers, Customer Care and FAQ